Fun Party Rentals, LLC located in Shorewood, WI is your number one Party Rental Company. Fun Party Rentals will provide you with bounce houses, inflatable slides or concessions rentals for all of your kid's birthday parties or events. Bounce houses, colorful concession carts and other rental equipment will enhance the theme of your event.   Our party rental equipment will make your party a memorable experience for everyone!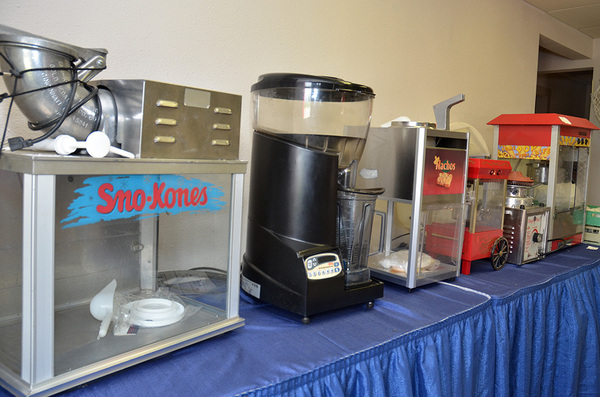 Delivering Party Equipment In Greater Milwaukee, WI Area
We now have the Batman banner to add to any of our standard bounce house or mega bounce houses. The standard bounce house with the Batman Banner rents for $200. The Mega bounce house with the banner rents for $325.
Reserve the Batman Bounce House For Your Backyard!
Best Kids Events With Fun Party Machine Rentals
Concession Rentals will take your event to the next level! Our concession machines are proven party hits – fun to make, fun to watch and definitely fun to eat! Our Snow Cones, Cotton Candy and Popcorn machines come with the necessary supplies to make AT LEAST 50 servings! We also offer additional serving packs for those larger crowds. Book yours today!
We Are

Caring Parents Too
Whenever we host a party with kids, we use the same inflatables we rent to you. We would never let our children or family play in unsafe or dirty inflatable bounce houses. Likewise we have the same concern for our client's children and guests. Our bounce houses are thoroughly cleaned and sanitized after each rental. Our trained installers will ensure that each rental is properly setup before any children begin playing in the bounce house.
Concession Machine Delivery & Set-Up
The Delivery Fee for the first 15 miles is included in price of your cotton candy machine, bounce house, snow cone machine, or popcorn maker rental. For deliveries beyond 15 miles, we charge $2 a mile to help cover the extra expense. Example: A 25 mile delivery is 25-15=10 X $2 = $20 delivery.
---
Safety
---
Don't trust your kid's birthday party or event with just anyone! Every customer receives the safest and most reliable party equipment at Fun Party Rentals, LLC. Our courteous professionals check all party equipment after delivery and set-up. We also have the newest, safest and cleanest bounce houses in the Milwaukee, WI Area.
---
Value
---
Our inflatable bounce houses are premium commercial grade and professionally installed. We guarantee deliveries for our reserved party dates. We offer fair and competitive prices on bounce house rentals and other party rentals to all of Southeast Wisconsin.
---
Selection
---
Fun Party Rentals, LLC provides customers with the best selection of inflatable equipment rentals for kid's parties. We have lots of party rental equipment which makes it easier for us to ensure the rentals will be available for your kid's event date.
Concession Machine Rentals
We use only commercial quality bounce houses for all of our rentals. Don't let our competition fool you with their low prices. Our bounce houses are higher quality, which makes them more fun for the kids. They are also safer than some of the low-end bounce houses. Make sure you go with the best quality bounce houses for your kids parties.
Kid's Fun Food Rentals Milwaukee, WI Area
Bounce House Rentals are perfect for:
Kids Birthday Parties
Holiday Parties
Summer Picnics
Carnivals
Church Events
Kids Events
Youth Conventions
Harvest Festivals
Family Reunions
Or Anywhere With Kids!